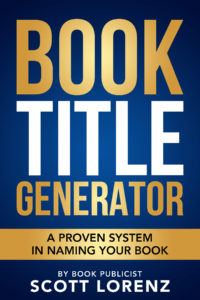 This episode of #Book Spectrum features a book for authors and writers both seasoned as well as up-and-coming: #PR and #Publicity Pro Scott Lorenz, who has placed authors in national and international publications as well as #radio and #television stations, talks with host Chris Cordani about his book designed to help writers of their own books: Book Title Generator: A Proven System in Naming Your Book.

#Authors work hard writing, proofreading, and re-writing their books several times. Still, the small amount of words on the cover can make a huge difference between a best-seller and a missed opportunity. Lorenz offers his experience and expertise in book promotion to help authors know what elements in a good title attract both readers and potential press. It is an important book for all those who want to compose a book. As a podcaster/broadcaster, I will add this book is also valuable for program, workshop and event creators.
Lorenz is the founder of Westwind Communications, specializing in marketing and promotion of books and their authors. In the book, the longtime publicist
reveals the secrets to creating an interesting title attractive to both potential readers and to media outlet gatekeepers.
(from Lorenz's website): Lorenz works with bestselling authors and self-published authors promoting all types of books, whether it's their first book or their 15th book. He's handled publicity for books by CEOs, Navy SEALS, Homemakers, Fitness Gurus, Doctors, Lawyers and Adventurers. He's generated media coverage for numerous genres including, fiction, health, romance, business and children.