This week on #Book Spectrum, we talk health with Holisti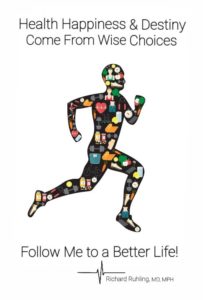 c Health Dr. Richard Ruhling, a physician who took public health to serve in Africa but ended up teaching at Loma Linda University where he discovered proper eating can reverse most diseases. He is the author of Health, Happiness & Destiny Come From Wise Choices. Dr. Ruhling talks about one of the leading killers of Americans: prescription drugs, the pharmaceutical industry's desire to keep consistent clients over finding cures and how to take better care of yourself through wise diet choices.
Dr. Ruhling also discusses the merits and mistakes with the current conventional wisdom about the COVID-19 pandemic, steps to take toward preventing yourself from being afflicted by the coronavirus and what you will want to do if you think you have symptoms.
In the book, Dr. Ruhling explains how our bodies are built from what we put in our mouth and how problems arise from what we do with it. There is good news: in most cases, we can reverse the dis-ease by a choice to eat better.
"It's about REAL HEALTHCARE, NOT MEDICAL CARE that has become a leadingcause of illness and death due to Rx drugs. Medical care is the diagnosis and treatment of disease, it's not healthcare! Health comes from obedience to the natural laws of the body. Dr. Breslow of UCLA discovered 7 health habits gave a 30-year advantage over people who broke the rules that are summarized by an acronym, NEW START." — Rr. Richard Ruhling
During our conversation, Dr. Ruhling will discuss how he is still healthy and active at 78 years old and how making the right food and lifestyle choices can add extra years to your life.