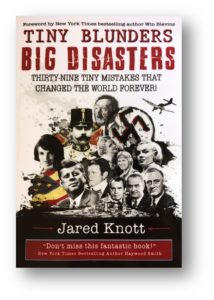 It's amazing how one little mistake or decision can change one's life and, perhaps, history. This week on Book Spectrum, Chris talks with Jared Knott, who compiled a library of destiny-changing little mishaps throughout the centuries in his new book: Tiny Blunders, Big Disasters: Thirty-Nine Tiny Mistakes That Changed the World Forever.
Did you know:
• An unopened letter saved the American cause in
the Revolutionary War?
• A badly designed paper ballot changed the
outcome of a presidential election and led directly to
a major war, a war that most now agree should never
have been fought in the first place?
• A German pilot's small mistake saved Britain
and changed the course of WWII?
These are just a few little coincidences and mistakes which changed the course of world. Jared offers your listeners examples from ancient times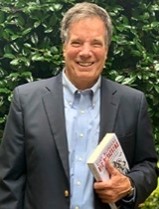 through today.
Among his array of talents, Jared Knott has published several articles in the Mensa Bulletin and in graduate school textbooks on subjects ranging from Supreme Court Reform to Arctic Exploration. He was a decorated combat infantry officer in Vietnam in the First Air Cavalry Division. In his civilian career, he has been a marketing leader in the home improvement industry.