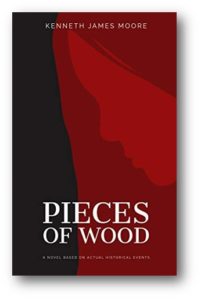 If we do not learn, or know enough about history, perhaps we will repeat mistakes of the past. In an era when history has been oversimplified, much of the important events and lessons are forgotten or completely ignored. Such is the case with the atrocities committed against women by the Imperial Japanese before and during World War II. Kevin James Moore tells the story about the regime's "Comfort Women" in his new novel, Pieces of Wood.
Kenneth James Moore was researching the whereabouts of his World War II hero uncle who died during the battles in the Pacific Ocean between US and Japanese forces. While tracking down the events of his uncle's service and death, Moore uncovered information about how women were taken from poor villages in Japan and the nations it occupied then brought to any one of a series of facilities to be used as "Comfort Women" to be brutalized and used as sexual slaves by Imperial Soldiers. Moore turned this information into the informative and intriguing novel designed to tell us what schools and much of the media eschewed.
When one is seeking answers regarding World War II in the Pacific, it is virtually impossible to avoid uncovering Imperial Japanese atrocities," says Moore. "I was looking for data regarding my uncle's plane. I initially had no intention of writing a novel focused on violence against women. Though that subject has haunted me the vast majority of my adult life, it wasn't until happening upon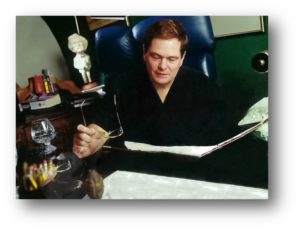 the 'ovens' that the need to write such a work imploded across every measure of my being."
Kenneth James Moore was born in 1949 in Tacoma, Washington. He graduated from Arizona State University and continued his education as a graduate student at Georgetown University. Political science and international relations were his calling.
Mentored by a former professor who was a Cold War counter-intelligence officer, Ken spent a year long stint as a volunteer alongside Admiral Bobby Inman, the Director of the National Security Agency during its reconstruction phase. Ken and his wife Patricia moved to Southern California, where Ken worked at Beverly Hills Securities as a commercial loan officer. He quickly moved to the investment banking side of the house and was able to retire at 45.
In 1994, Ken was the victim of a horrific automobile accident. Rehabilitation consumed every moment of the next four years as he relearned how to talk, walk, and swallow solid foods.
Ken was haunted by a promise he had made to his mother at age seven, pledging to unravel the mystery behind the disappearance of her youngest brother during WWII, Lt. Billy Weber, a B-29 Bomber pilot. His journey to the Pacific theater lead him to write the books The Hunt for the Life of Riley and Pieces of Wood. Learn more about Ken at www.kennethjamesmoore.com.