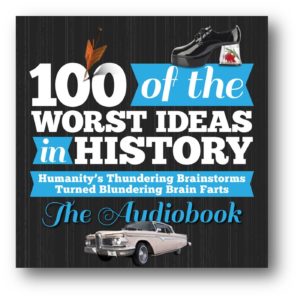 There were some pretty bad ideas throughout history, and not just picking the wrong color for a room or something line that. Writer and Producer Mike Smith has compiled a list of 100 huge ones in his new audiobook, 1000 of the Worst Ideas in History.
From skinny-dipping presidents to toxic tooth fillings to hit singing groups that can't carry a tune, 100 of the Worst Ideas in History is a celebration of humanity's historical, hysterical stinkin' thinkin'—thundering brainstorms that turned into blundering brain farts—and the astonishing impact they carry to this day.
"We're big believers in the adage 'those who ignore history are doomed to repeat it'," says Smith. "With schools relegating history to the dull, boring memorization of 'dead guys and dates', it was time someone took a swing at making history human, identifiable, entertaining and memorable."
Mike – with a lot of humor and several guest voices – tells these stories in the audiobook and will discuss them with you and your audience, hoping we are not doomed to repeat humanity's historically boneheaded moves including:
How a confused chauffeur helped start World War I
Who turned down the greatest product placement opportunity in cinema history
How a baseball game helped hasten the death of discoa
A toad that nearly ate Australia
The most dangerous children's game ever invented
The tasty new snack food that's likely to give you diarrhea
What was President William McKinley thinking by opting to not wear a bullet proof vest on the day he was assassinated?
Michael R. Smith is the founder, executive producer and creative director of Beard Boy Productions, a southern California-based advertising production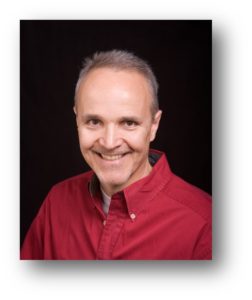 agency specializing in writing and producing television, video, radio, animation, AR/VR and web content. He has written and produced hundreds of humorous (and not-so-humorous) TV commercials, radio spots and corporate videos over the past 26 years for a gaggle of clients across our great land. He has also worked as a press aide and speech-writer for the New York State Assembly, a radio news reporter and a public relations manager.
His work has garnered numerous honors, including Clio, ADDY, EFFIE, New York Art Directors and TELLY awards. He also created the popular cult comic book character, "Pete the P.O.'d Postal Worker." He's penned features for National Lampoon, Men's Exercise, Orange County Register, Los Angeles Times, Buffalo News, St. Petersburg Times and San Antonio Express News. Mike kids history, but always with love. He lives with his wife, Debora, and son, Andrew, in California.
You can find more information on Michael N. Smith at 100worstideas.com 
Pick up the audiobook on Amazon